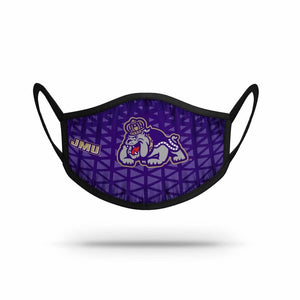 Adult JMU Dukes Logo Reusable Face Covering 4-Pack - IN STOCK
Regular price $48.00 $30.00 Sale
IN STOCK.
Cover up while you represent your favorite school in this JMU Dukes disposable face covering! It features bold graphics, so no one will be able to question where your allegiance lies when you're wearing these masks.  
The masks are made from a premium athletic poly blend. It's breathable and comfortable, even during the summer, and acts as a cloth face covering. The mask has 2 layers and a filter can be inserted in between the layers of fabric for extra protection.

These are machine washable, line dry and can be reused. 
One size fits most. 
Sold in a pack of 4 to either share or swap out as they are being washed 
This Face Covering is for personal use only and is not intended for a medical purpose or as a replacement for medical grade personal protective equipment. It is a fashion face covering not intended to be personal protective equipment and should not be used by healthcare professionals or used in a healthcare/clinical environment or setting. This face covering is not intended to prevent or protect from any form of illness or disease (or otherwise).